ARMIDALE UNHOUSED RAM SALE
Miramoona has been involved in the Armidale Unhoused Ram Sale since it was started in the late 70's. All rams presented at the Sale are unhoused and paddock reared with no supplementary feeding except in drought years. Because the rams are paddock reared they have no fertility problems and no "letting down" is necessary. All rams are inspected by a veterinarian prior to the sale to ensure that all rams are sound for breeding. Rams are shorn after August 1st and are all tested by New England Fibre Testing at Walcha. Test results given are micron, yield, clean fleece weight % and CV, SD as well as a CV histogram. Also ASBV's for YFD, YCFW, YWT, YWEC are displayed above the ram on sale day. All rams are penned on bare ground, no straw, so foot structure can be clearly seen.
35th ARMIDALE UNHOUSED RAM SALE - 2013

On Monday, 4th February 2013 Miramoona will present 15 paddock-reared rams for auction. This is an opportunity for all clients to have access to our best sale rams.

A full catalogue is available on the Unhoused Ram Sale web site

http://www.armidaleunhoused.com/

All rams have continued to be reared under paddock conditions with no shedding during the year but we can not claim there was no supplementary feeding. The rams were fed until April this year as the season was still very ordinary until then.

Further Miramoona ram sales will be held on-property following the Unhoused Ram Sale by appointment. Contact Kim for more information.

New England Merino Field Days..TBA

Armidale Unhoused Ram Sale Averages for Miramoona

| | | | | | |
| --- | --- | --- | --- | --- | --- |
| 1997 | 5 rams | @ | $1280 | Top Price $1400 | Bruce Brazel, Walcha, NSW |
| 1998 | 10 rams | @ | $1030 | Top Price $3000 | Terry Dobel, Bathurst, NSW |
| 1999 | 16 rams | @ | $1513 | Top Price $3600 | John Sharpe, Tenterfield, NSW |
| 2000 | 18 rams | @ | $2089 | Top Price $4600 | David Gowing, Bundarra, NSW |
| 2001 | 25 rams | @ | $2384 | Top Price $5800 | Peter Upperton, Quirindi, NSW |
| 2002 | 24 rams | @ | $1148 | Top Price $3000 | Stephen Thompson, Lucidale, SA |
| 2003 | 15 Rams | @ | $1653 | Top Price $3200 | Sam White, Guyra, NSW |
| 2004 | 13 Rams | @ | $1400 | Top Price $3400 | Greg Tighe, Guyra NSW |
| 2005 | 12 Rans | @ | $1066 | Top Price $1800 | Andrew McLennan, Armidale |




| | | |
| --- | --- | --- |
| John Sharpe - 1999 | David & Pam Gowing - 2000 | Peter Upperton - 2001 |
| Sam White - 2003 | Greg & Kathy Tighe - 2004 | |
MCLENNAN – Armidale

Andrew and Kath McLennan run 5600 Merinos on their 1214 hectre property north-east of Armidale.
Andrew has been more that happy with performance of their Miramoona rams. "We're looking for big-framed animals with superfine wool which are heavy cutting."
"Our wethers are now averaging five kilos and we've been able to lift our lambing rates from
86% to 93% in the past five years"
He is pleased with the introduction of ASBV's to the Armidale Unhoused Ram Sale and has put them to good use in selecting for worm-resistance.
The McLennan's join 1300 merino ewes, produce 17.5 micron wool with a soft feel and 48 to 50 Newtons
ARCHIBALDS

Sandy and Mandy Archibald switched to Miramoona rams when they were running about 4000 merinos on their 2270 hectare Ellerston property, "Fernleigh". They changed to using rams from Miramoona after a five year search for rams best suited to their testing environment. "The sheep have been so much easier to look after. We haven't had to jet for five years which has saved us money and has dramatically reduced our reliance on chemicals." Being located in a high rainfall area (900 - 1000 annually), fly strike, fleece rot and colouring in the wool had previously been a major concern for the Archibald's. After trialling rams from studs all over NSW, Sandy went to the New England looking for the "biggest and finest" sheep he could find. "We wanted to brighten and fine up our wool yet still retain a reasonable cut and size in our sheep because they have to work pretty hard around these hills." "Miramoona sheep just seemed to stand out by having a little bit more frame and size than many finer studs."
SEACOMBE - Merriwa


Peter Seacombe, manager of "Tawarri", Merriwa was seeking Soft Rolling Skin sheep for "Tawarri". He had attended SRS workshops and was convinced the quality wool produced by SRS sheep was " a light at the end of the gloom pervading the wool industry" Miramoona sheep were good quality and excellent buying

" The 2 tooth and 6 tooth wethers we purchased from you have continued to grow, showing good frame and bone. They cut 6.1 kgs at 19.1 micron. Rugging has also increased the value of their fleece."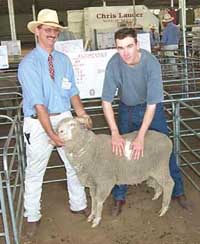 JASON ELLIS, Graman


Comments from Jason.
"I like the no-nonsense look of your sheep…"

" The constitution in my sheep seems to have improved…(my) Miramoona lambs definitely have excellent bone and robustness, which is the thing that keeps bringing me back to Miramoona."

" I've noticed a bit of a different look about the Miramoona lambs. They just look thicker and more barrel shaped than other Merryville type sheep."

" The role of my sheep enterprise is to return prosperity off marginal, low fertility country…
I guess what I am trying to say is, that I'm looking for sheep that will do a job for me and I think your sheep will do that job."

PHILLIP WARK, Coonabarabran


" I thought you might be interested in how the wool from the ram I bought from you came off at shearing. It was wonderful wool. I couldn't get over how soft he was. What amazed me most of all was when I bought him from you he was 15.7 micron and at shearing he tested 15.6, to say I was amazed is an understatement."
SAM WHITE, Guyra

Sam White at Guyra, NSW, has been buying Miramoona rams since 1998 "as part of a program to bring the flock micron down into a more profitable range." As Sam puts it. "Since the switch to Miramoona, five years ago, I have seen a 60pc increase in gross revenue per head, as well as a decrease in the average adult flock micron from 21 to 19, while cutting more than 5 kilograms per head."
He finds he is "making more money with less sheep – we're getting excellent fleece weights."
GREG TIGHE, Guyra

Mr Tighe said he particularly liked the excellent fleece the ram was growing on a big frame. He felt the ram would "nick" well with his Nerstane-blood flock.