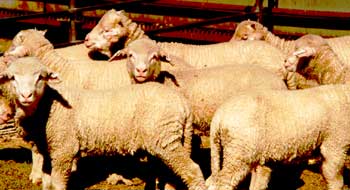 The

Miramoona Stud was founded in 1972 by Evan and June Barnet on the division of the Mirani stud. Miramoona is run and operated by the Barnet family. Miramoona sheep are uncomplicated and suitable for use in both the high rainfall areas of the tablelands and the hotter, drier areas adjacent. Miramoona runs 3200 breeding ewes which includes the stud of 500 ewes.

Dr Jim Watts joined Miramoona as Stud Consultant in 1995. Miramoona is a level 1 registered SRSŪ Stud.
Miramoona is 999ha of trap country and with an average rainfall of 750mm. The stocking rate is 11.5 dse/ha in Winter and 15.5 dse/ha in Summer.

A commercial flock of 3,200 breeders is run in conjunction with 500 stud ewes. All sheep, including rams are paddock reared with no supplementary feeding or shedding under strict commercial conditions. All ewes, sires and introduced sires, (semen only), are progeny tested with extensive pedigree and performance records maintained.